I said at the start of Grooving mum's blog hop that I was determined to take part each week and I think so far I have succeeded, albeit a little late on the last 2, but I am here even if it is Friday!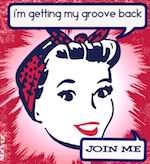 I am not grooving truth be known, but last week Kate asked what grooving mum's meant to us and for me it is forming a bit of a lifeline at the moment. It is making me pick myself up, making me think about stopping wallowing in self pity and making me want to do things for me simply so I can report back and share it and get the support on here. Kate also asked us to write a post we would never normally write. There is one post I would like to write right now - to share what is eating me alive right now, but I can't.I made a promise not to discuss it with anyone which in the long run has made me feel so incredibly alone, so I can't blog about it, I can't talk about it with t'husband, or with friends, I won't break that promise. To talk about it with the person putting me through this wont work either I don't think as I am so damned confused and crushed. So that post won't be happening.
The last 2 weeks have past in a complete haze of self pity, wallowing, pringles, wine and comfort food. The diet, running, feeling good about myself and more confident have fled out the back door and run off down the road. BUT no more, I am back running, I have ditched the junk and although the wallowing may take longer and the confidence and self belief have been steam rollered by one event (and not even mine), I am picking myself back up. Thanks to this link it has made me realise I am worth it and for who, for ME and for my kids and family.
Last week despite being in a haze, I managed to say yes to mum taking the boys and me for lunch one day. I didn't want to go and set off with the false, public mummy smile plastered on my face but I enjoyed it. I also went to a Halloween party with t-husband and although not one of those brilliant, won't forget that for a long time nights, it was good. I did speak to a number of mum's I have never spoken to before on the school trip, 2 of whom have stopped for a quick chat in the playground since, so I am trying and it does make you feel better. Oh and I took the boys swimming over the holidays and we had a great morning, followed by a trip to MacDonald's, a real treat for them x
Right now I feel like a bit of paper that has been screwed up and then straightened out to try and make it look OK again but it never will, no matter what you do to it. Those creases will stay, just like hurt does but I need to get over that because I am worth so much more.